Customer case: SACO
Saco, is a trade union organization in the Swedish labor market. They have a relatively high flow of visitors and demands for security in the entrance.
Location

Stockholm, Sweden

Business

Trade union


Visitor flow

Generally low but with large group bookings

Goal

Implement self-service and streamline visitor flow
The challenge
There are around 40 employees in the office and the number of visitors is up to 30 people per day with group bookings.
The entrance has a reception but this one is not manned all the time. Therefore, an self-service solution is required where the guest can notify his arrival automatically.
Furthermore, there is a lot of movement on the premises during the day and the employees are not necessarily seated at all times but move between their own workplace, colleagues' workplaces and meeting rooms. For visitors to easily get their host, a simple and solution is needed that notifies that a visitor is in place.
Last but not least, an open environment requires that from a fire safety aspect you have an eye on their visitors during an evacuation.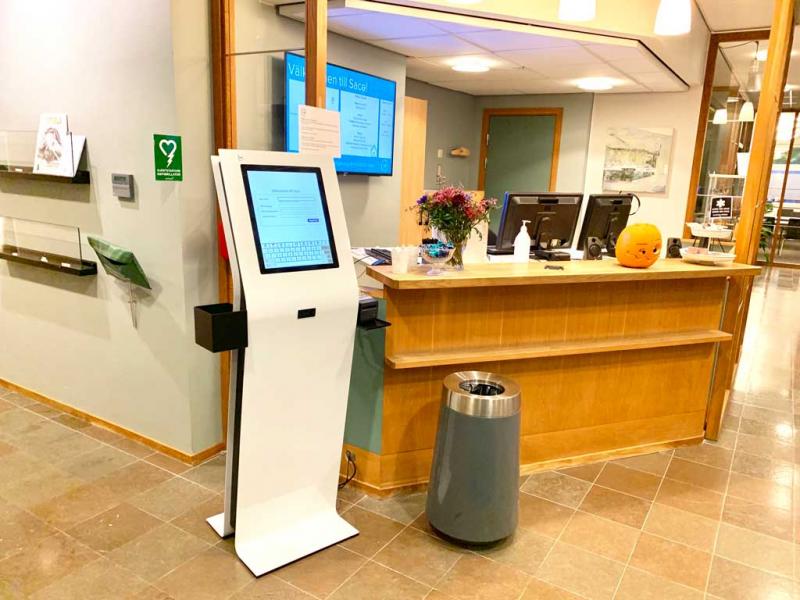 The solution
In consultation with project managers, we came to the conclusion that a visitor kiosk with our notification service Express Connect would facilitate the visitor flow in the entrance. When a visitors check-in a notification is automatically sent to the visitor who in turn acknowledges the message and informs the visitor that they are on their way.
Results
Since autumn 2018, the system now manages the visitor management for the entire business. The visitation kiosk for self-registration is right at the entrance and prints visitor badges automatically while notification is sent to the recipient. The office manager has a mobile app to be able to quickly see who is in the house and when an evacuation can tick off those who have been put in safety.
Express Connect

Notification is sent to host automatically upon arrival.

Express Escape

Evacuation app to keep track of visitors