Customer case: Tyréns
Tyréns is one of Sweden's leading consulting companies in the field of community building, which creates sustainable solutions in urban development and infrastructure. Tyréns is a foundation owned and has approximately 2,700 employees and operations in Sweden, Denmark, England, Estonia and Lithuania.
Location

Herlev, Copenhagen, Denmark

Business

Consultancy company infrastructure


Visitor flow

Medium

Goal

Implement self-service and streamline visitor flow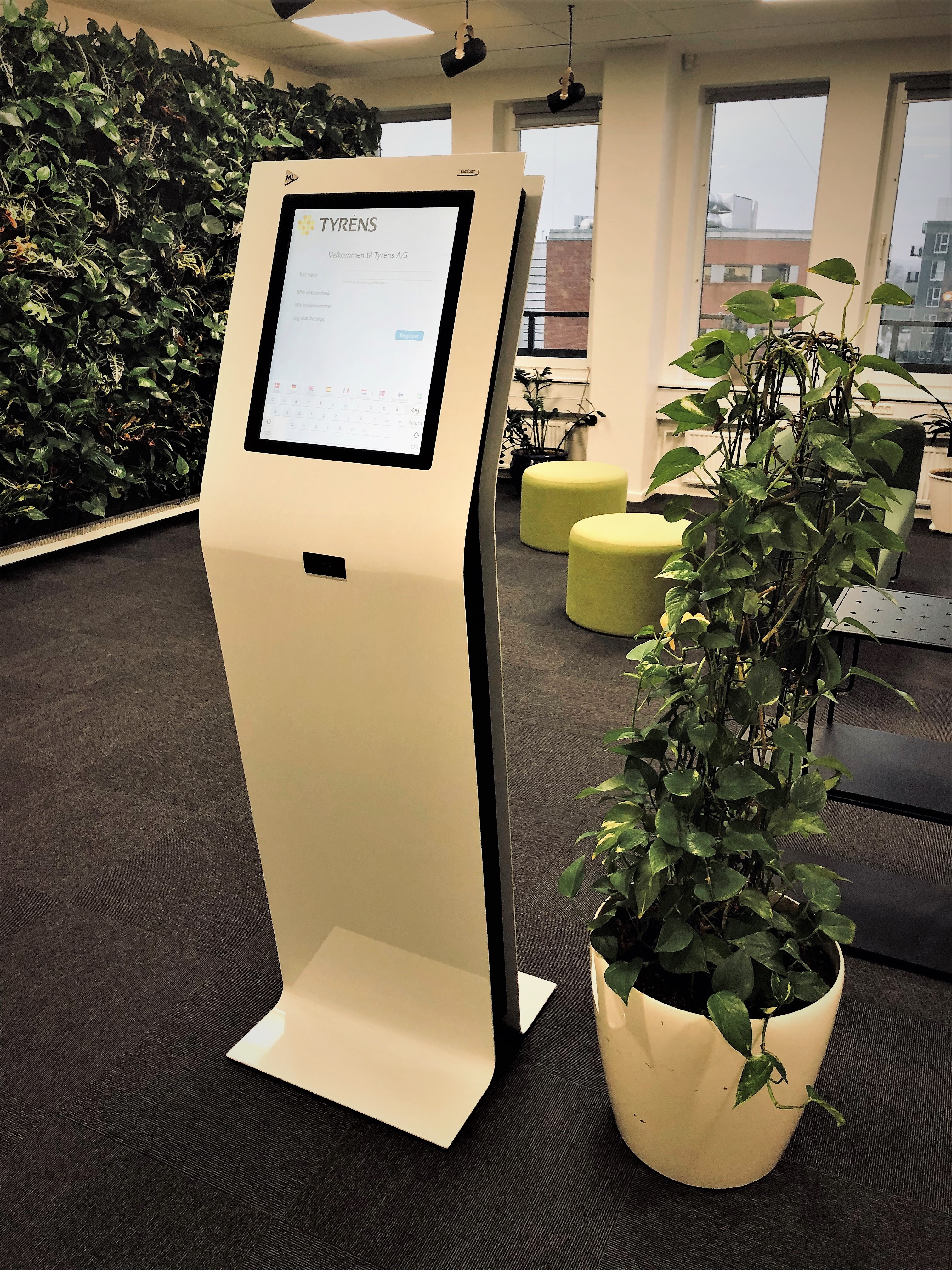 The challenge
There are about 50 employees in the office and the number of visitors varies but may be considered medium-sized.
The lobby where guests arrive is unmanned. Therefore, an automated solution is required where the guest can inform himself of his arrival.
Furthermore, there is a lot of movement on the premises during the day and the employees are not necessarily seated at all times but move between their own workplace, colleagues' workplaces and meeting rooms. In order for visitors to easily get hold of their host, a simple and solution is needed which partly announces that a visitor is in place.
Last but not least, an open environment requires that from a fire safety aspect you have an eye on their visitors during an evacuation.
The solution
In order for the solution to be as self-propelled as possible and cover the entire chain from booking to arrival, our Express Check-in service was chosen where the employees pre-book their visits to Outlook, sending a nice and informative invitation to the guest.
This invitation includes a mobile visit ticket that is saved in the phone and the guest easily uses on arrival to check in at the visit kiosk.
Upon check-in, a visitor badge is printed and our service Express Connect sends a notification to the visitor recipient who in turn acknowledges the message and notifies the visitor that they are on their way.
Results
Since autumn 2018, the system now manages the visitor management for the entire business. The visitation kiosk for self-registration is right at the entrance and prints visitor badges automatically while notification is sent to the recipient. The office manager has a mobile app to be able to quickly see who is in the house and when an evacuation can tick off those who have been put in safety.
Express Check-in

Prebook in Outlook and sends neat and informative invite to guest with mobile ticket for smooth check-in


Express Connect

Automatically notify hosts when guests are signed in.


Express Escape

Evacuation app


Upptäck EastCoast Visit

Ett modernt besökssystem för att hantera möten och besök i er verksamhet. Smarta funktioner som höjer säkerheten och samtidigt uppfyller era krav på hantering av persondata enligt GDPR.

EastCoast Express

Våra molntjänster som sömlöst verkar tillsammans med besökssystemet för att hantera era gäster på det snabbaste och mest moderna sättet. Vi erbjuder framtidens lösningar för alla sorters verksamheter.

Se film