EastCoast Visit Enterprise
One visitor management system. For all types of businesses.
EastCoast Visit Enterprise is the system that covers all the needs of medium and large businesses. TeliaSonera, Bosch and Atlas Copco are some of the companies that use EastCoast Visit Enterprise in their main entrances.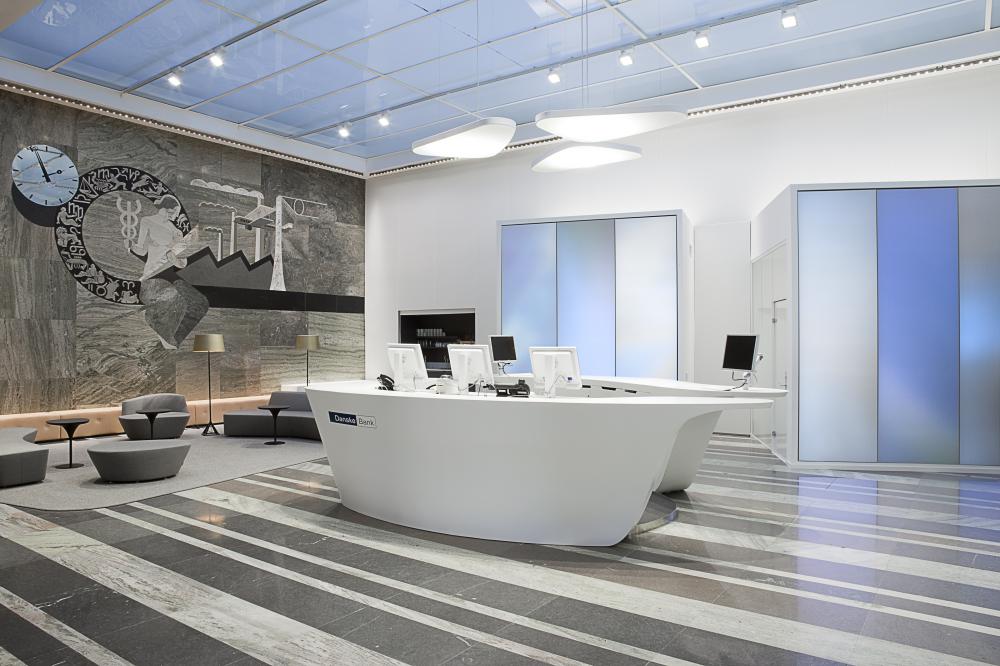 Flexible and extensible
EastCoast Visit Enterprise is a comprehensive solution for visitor management. Visitors register themselves and receptionists can assist when necessary. The self registration screen can be customized with your own designs and have nine languages as standard. Visitors can type on a keyboard or right on the screen. The visitor badge is printed on a small desktop printer that is placed either behind the counter or in public for self-service. We also offer kiosk solutions with integrated printers.

The receptionist can register and pre-book visits and retrieve reports, statistics and parking lists. Staff list is synced automatically to Active Directory. When leaving the badge is scanned out with a barcode scanner.

Full control of your visitors

To implement a visitor management system is a safety measure where a company collects information about visitors. EastCoast Visit gives a company or organistation full control of visitor flow at your premises.
Import fromn Active Directory

To avoid manual handling of receivers the system can synchronize with the Active Directory. This keeps the register up-to-date and eliminate errors. Moreover, the system requires a valid receiver to ensure that the visitor is taken care of. Of course, additions or changes can be made manually in the registry.
Effective SMS notification

An SMS is automatically sent to visit the recipient as soon as your visitors have written themselves. Visit the recipient can reply to their SMS so that the visitor knows that he will be picked up shortly. The receptionist can also see which recipients have acknowledged that they are on their way to the reception. The service is fully automated and very efficient while also signaling to your visitors that you are a modern company in time.
Central database

All the main data stored in a database which usually runs on a server. Regional offices or branches can run the main system with the same database and thus have a central control system. We know that most companies have guidelines for storing data. Therefore, we have built functions into the EastCoast Visit the effective maintenance of databases.
Parkering lists

Many companies with guest parking would keep an eye on that only visitors utilize parking only during visiting hours. With EastCoast Visitr you solve this with the automatically generated Parking reports that can be quickly up to the p-guards who control parkeringen.Det can also automatically generate a parking permit for the visitors which they can then put in the car.
Add more modules

For those who want even more out of your EastCoast Visit Enterprise can build more modules and clients to create a customized solution.
Fast and easy registration

It is very easy to sign up with EastCoast Visit. The visitor enters their name and who is to be visited. A badge is printed automatically and simultaneously recorded in the database. The enrollment process is very simple.
Evacuation list on your mobile

Our mobile app will give you full control of all visitors in case of emergency/ evacuation - anytime, wherever you are. Using a smart phone or a tablet the evacuation list can be accessed at all times. ,
Easy WIFI for visitors

Does your visitors and consultants need internet access when they visit you? No problem - the solution is built into EastCoast Visit and is easy to set up. With a simple click at registration the visitor gets a WIFI code automatically for the guest network. These are printed on a visit label or sent by SMS. With this code the visitor can log on and surf throughout his visit. When leaving the code will expire automatically.
Preregistration

In the East Coast Business makes it easy to pre-register visitors. Staff and employees can if they want the pre-booking guests on the intranet. Groups can easily be pre-notified by the easy import from Excel file. If desired, badges printed in advance of, for example, a larger meeting or seminar.
Powerful reports

With EastCoast Visit it is easy to pick up reports on visits and visit frequency. For example, one can see in the chart when the reception is most heavily loaded. You can search on all parameters and filter information required report. Report Manager can then export data in multiple formats or printed.
Integration with access control (optional)
East Coast, in collaboration with ASSA have developed an additional module to assign the visitor temporary authorization of Assa ARX.
Visitors can be assigned access rights during the current visit.
Access can take place via unique access codes or access card / tag. It is easy to configure access control to provide different categories of visitors access to different doors, and it is also possible to schedule control this.
Contact firstly your security provider or ASSA for this functionality.
What a boost!
We have experienced a great improvement of visitor management since implementing EastCoast Visit.
Thomas, TeliaSonera
So simple and easy!
We are very satisfied with the system and our visitors think it looks really professional when they register. Additionally, the SMS service much appreciated by our staff.
Susanne, Jula
The SMS service is the best!
Since we started using the SMS service everything works so much better in the reception. Visitors get hold of the right person quickly and easily.
Annika, SveaSkog
User friendly!
A great software, easy to use!
Diana, Infrastructure Manager at Swedish Space Corporation
A handy visitor system!!
Easy to deal with, you can enter more persons at the same time making the queues shorter. Amazing support.
Linnea, Circles Sweden