EastCoast Visit Light
A visitor system for smaller businesses.
EastCoast Visit Light is the simple solution for medium-sized and smaller companies. Law firms, elevator companies and travel companies are some that use EastCoast Visit Light at its entrances.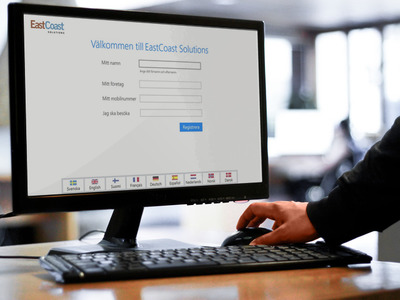 Simple but powerful
The backbone of EastCoast Visit Light is a client for self-registration and a client for the receptionist. The self-registration has nine languages built-in. Visitors can enter on a keyboard or right on the screen depending on what hardware you choose to use. The visitor badge is printed on a small desktop printer that is placed either behind the counter or in public for self-service.
The receptionist (or equivalent) may also register visits if required. He or she can create reports, view statistics and print out parking lists. An evacuation list can be printed if an incident occurs.
Full control of your visitors

To implement a visitor management system is a safety measure where a company collects information about visitors. EastCoast Visit gives a company or organistation full control of the visitor flow at your premises.
Local database

All the main data is stored in a database which is run locally. We know that most companies have guidelines for storing data. Therefore, we have built-in functions in EastCoast Visit for effective maintenance of databases.
Parkering lists

To prevent unauthorized parking a visitor can register a car when signing in. EastCoast Visit can automatically generate parking reports that can be quickly printed out and handed to a parking guard (or similar).
Fast and easy registration

It is very easy to sign in with EastCoast Visit. A visitor enters their name and the host's name. A badge is printed automatically and simultaneously recorded in the database. The enrollment process is very simple.
Preregistration

The receptionist can easily pre-book guests from their client.Badges can be printed in advance of, for example, a larger meetings or seminars.
Powerful reports
EastCoast Visit can generate neat reports and statistics of visitor frequency. For example, one can see in the chart when the reception has most traffic. You can search on all parameters and filter information required to generate reports. The report manager can export data in multiple formats.