Visitor management systems
A visitor management system simplifies the registration and facilitates the receptionist and provide control over the main flow. A visitor management system functions primarily as a safety measure. First and foremost, it keeps track of visitors residing on company premises and may in an evacuation situation be crucial to encircle all visitors. An evacuation list is then used to know which external people who were in the premises. A visitor management system also conveys a professional image and simplifies the management of visitors. Last but not least you get good information on which visitors you have. These statistics can be used for traceability.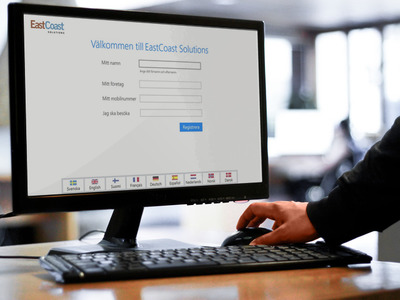 EastCoast Visit
EastCoast Visit is implemented at the company desk to simplify registration of visitors. When the visitor arrives he is greeted by a self-registration screen. Upon registration a visitor badge is automatically printed and a text message is sent to the main recipient - which in turn can acknowledge this.
The enrollment process is very easy and quick. The receptionist (or equivalent) can monitor and administer all visitors and to generate statistics and reports. The system can also generate parking lists for parking attendants.
When the visit is over and the visitor leaves the company he is checked out. All information about the visitor is stored in a database that can be synchronized with personnel records such as an Active Directory.
EastCoast Solutions has been helping companies improve their visitor management for almost 17 years. Our main ambition is to increase efficiency and help creat more modern receptions. Our creativity and extensive experience has given us a leading role within visitor management. We also offer other solutions, sometimes specifically designed for enterprise-specific requirements. All our solutions are based on your needs and your situation. Our service streamlines the administration, often saves money and makes life easier for both receptionists, security officers and visitors.
Our services are modern, scalable and integratable. Learn more about our solutions and products in the menu.

Contact us for a product review online, on your premises or visit our office in Stockholm, Sweden.