Customer case: ATEA
Atea is the leading Nordic and Baltic provider of IT infrastructure with approximately 6800 employees, working in 89 cities in Norway, Sweden, Denmark, Finland, Lithuania, Latvia and Estonia. Since 2014, Atea has used EastCoast Visit as its visitor management solution in a number of its Swedish offices. After using the system for several years, Atea has now decided to implement an upgraded EastCoast Solutions system - EastCoast Visit Online - in several offices in the Nordics and Baltics.
Location

Nordic and Baltics


Business

IT company

Visitor flow

Mid to high


Goal

Automate the visitor flow and streamline visitor management at ATEA's office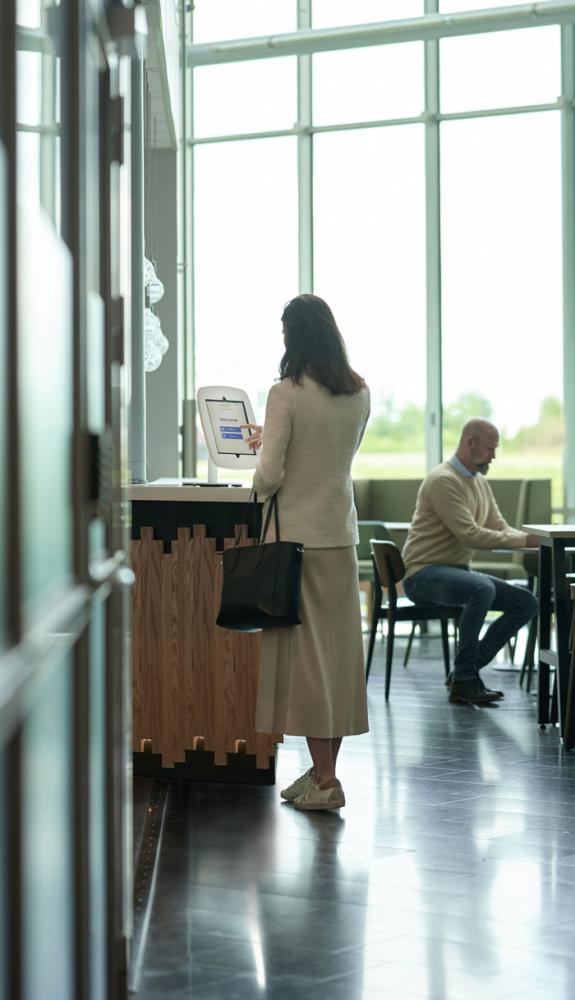 The challenge
Atea has a number of offices in the Nordic and Baltic states. They needed a simple, scalable and cloud-based solution to manage their visitors. Atea receives a lot of customer and supplier visits to its offices and needs quick and smooth handling of visitors without compromising on security. Demands are also often made from Atea's customers or suppliers regarding logging and traceability of outgoing visits.
Different offices have different demands, which requires a solution that can be adapted in a simple way to match the needs of the business. Overall, there is a high visitor flow and a lot of people in circulation
Solution
Atea chose to go ahead with a completely cloud-based solution with a short implementation process and the ability to quickly scale up with visitor management on more sites .
Each office will offer check-in options either with a stand-alone iPad or with our unique iPad kiosk. In many of the cases, the guests will be pre-booked and receiving a welcome email in advance with directions and a QR code for smooth check-in.
For drop-in guests and visitors, the registration process is easy with a simple consent form to approve their personal personal data being handled during the visit.
When checked-in, a notification is sent to the host who in turn can confirm that he is on his way. In the meantime, the guest can sit down in the lobby and perhaps enjoy a cup of coffee while waiting for pick-up.
Introduction
Atea has started the roll-out on some sites during June 2022.
Express Check-in

Invitation via Outlook and invitation email to the guest with mobile visitor ticket


Express Connect

Automated notification to host but possibility of reply




Express Escape

Evacuation list in mobile app





Discover EastCoast Visit Online

A modern cloud-based visitor system to manage meetings and visits in your business. Smart functions that increase security and at the same time meet your requirements for handling personal data according to GDPR.




EastCoast Express

Our cloud services that work seamlessly together with the visitor system to manage your guests in the fastest and most modern way. We offer solutions of the future for all kinds of businesses.

Watch video