Kundecase: SSAB
Modernisering med en ambition om at skabe et bedre flow i besøgsstrømmen.
SSAB er en global stålvirksomhed med ca. 17.000 ansatte i 50 lande, og den er en førende producent på det globale marked. Deres stål bidrager til lavere vægt ved slutproduktet og øger produktets styrke og levetid.
SSAB har produktionsanlæg i Sverige, Finland og USA med kapacitet til at behandle og færdiggøre forskellige stålprodukter i Kina og andre lande.
Location

Stockholm, Sverige

Business

Retail Office Equipment

Visitor flow

Lots of visitors and recurrent large groups

Goal

Trim visitor flow and speed up registration process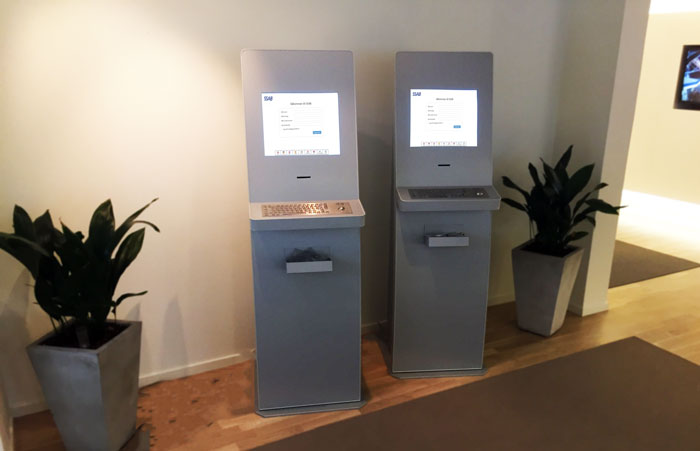 Udfordringen
SSAB har sit hovedkontor i World Trade Center i Stockholm. Ejendommens placering med dens moderne omgivelser og den høje tekniske standard har gjort, at flere kendte svenske og internationale virksomheder har gjort World Trade Center til sit hjemsted.
Hovedkonteret er primært til ledelsen af virksomheden, men har også plads til møder og generalforsamlinger. Der er masser af mennesker i aktion, og man ville automatisere håndteringen så meget som muligt. Tanken var, at besøgende til virksomheden skulle ankomme og registrere sig på samme sted, og at indslusningen af besøgende skulle være automatisk og enkel. SSAB ønskede også, at stationerne skulle være til selvbetjening, således at strømmen fik et bedre flow.
Express Check-in

Invitation via Outlook and invitation email to the guest with mobile visitor ticket


Express Connect

Automated notification to host but possibility of reply




Express Escape

Evacuation list in mobile app