Customer case: SSAB
Modernization with an ambition to create a better flow in the visitor flow
SSAB is a global steel company with approximately 17,000 employees in 50 countries and a leading producer in the global market. SSAB has production facilities in Sweden, Finland and the United States with the capacity to process and complete various steel products in China and a number of other countries.
Location

Stockholm, Sverige

Business

Steel group

Visitor flow

Lots of visitors and recurrent large groups

Goal

Trim visitor flow and speed up registration process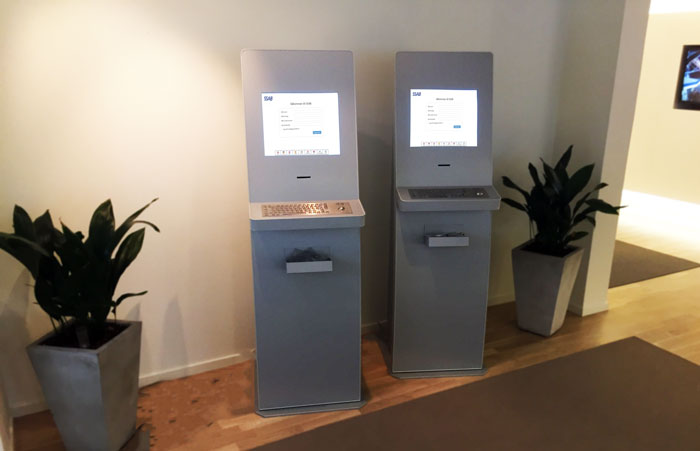 The challenge
SSAB is headquartered in the World Trade Center in Stockholm. The property's location with its modern environment and high technical standards has made several famous Swedish and international companies have made the World Trade Center their home.
The head office mainly houses the management of the company, but also has meeting areas for meetings and meetings. There are a lot of people in motion and you wanted to automate the management as much as possible. The idea was that company visitors would arrive and register at the same place and that the closing of visitors would be automatic and simplified. SSAB also wanted the stations to be built for self-service so that the flow had a better flow.
Solution
In consultation with the project managers, we came to the conclusion that visiting kiosks with the SMS notification service Lenio would facilitate the visitor flow and relieve the receptionists. When the visitors register, a notification is sent automatically to the visitor recipient, who in turn acknowledges the message and notifies the visitor where the meeting takes place. Thus, both external guests and SSAB's staff from other locations can sign up at the same terminal but still receive notification of where their meeting takes place.
Results
Since the inauguration in September 2015, the system now manages the visitor management for the entire SSAB. The two kiosks for self-registration in brushed steel stand right at the entrance and print out visitor badges automatically while notification is sent to the recipient. In the manned reception desk there are clients installed where reports, evacuation list, pre-booking and manual registration can be made. The new system has been received with warm hand by both visitors and employees.
Express Connect

Notification is sent to host automatically upon arrival.

Express Escape

Evacuation app to keep track of visitors